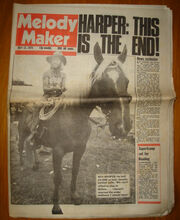 Roy Harper (born 12 June 1941) is an English rock / folk singer-songwriter / guitarist who has been a professional musician since the mid 1960s. Harper has described American blues musician Leadbelly and folk singer Woody Guthrie as his biggest musical influences when he was growing up. As a musician, Harper is known for his distinctive fingerstyle playing and lengthy, complex compositions. He has released a large catalogue of albums as an artist, most of which are available on his own record label Science Friction.
His influence has been acknowledged by many musicians including Jimmy Page and Robert Plant of Led Zeppelin, Pete Townshend of The Who, Kate Bush, Ian Anderson of Jethro Tull and Pink Floyd, as well as more recently by Californian harpist Joanna Newsom. Harper also sang guest lead vocals on Pink Floyd's song "Have a Cigar", and inspired the title of the Led Zeppelin song "Hats Off to (Roy) Harper".
Bibliography
Edit
Fanzine: Hors d'Oeuvres 1983-2009
Edit
Hors D'Oeuvres, a Roy Harper fanzine was sold mail order and at gigs from 1983 onwards. It was started by Pete Cunliffe and later taken on by Dave Carlin and Darren Crisp.
Magazine articles
Edit