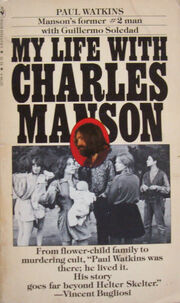 My Life With Charles Manson is a 1979 memoir by Paul Watkins, written in co-operation with Guillermo Soledad. The book focuses on Watkins's involvement with Charles Manson and his Family. This book would certainly benefit from a reprint.
Publication details
Edit
Published by Bantam
ISBN-10 : 0553127888
Ad blocker interference detected!
Wikia is a free-to-use site that makes money from advertising. We have a modified experience for viewers using ad blockers

Wikia is not accessible if you've made further modifications. Remove the custom ad blocker rule(s) and the page will load as expected.