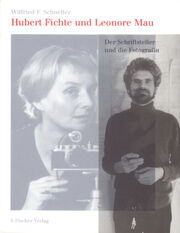 Leonore Mau ( August 1st, 1916 in Leipzig ) is a German photographer.
Early career
Edit
Leonore Mau studied set design and trained as a press photographer. From 1953 onward she worked as a photographer for various magazines, concentrating on architecture in particular.
Relationship with Hubert Fichte
Edit
Leonore Mau and Hubert Fichte first met in 1955 and lived together for more than 20 years. Almost from the very beginning, the intense personal relationship between them found expression in a complex and fruitful artistic collaboration. The two traveled to Brazil in 1969 and in following years explored the African American religions in the Caribbean, Latin America and Africa. Mau & Fichte collaborated on short films and books, she photographing and him writing. Fichte died of an AIDS-related illness in 1986.
Leonore Mau now lives in Hamburg.
2005 Exhibition
Edit
From September 16th, 2005 to January 8th, 2006, Hamburg's Deichorhallen held an exhibition which, for the first time ever, showcased the works of both Mau and Fichte. The exhibition included photographs, paintings, ethnographic objects, literary texts and films. A book called Hubert Fichte und Leonore Mau: Der Schriftsteller und die Fotografin - Eine Lebensreise ('The Writer and The Photographer - A Journey of Life') was released to coincide with the exhibition.
Film work
Edit
In 2006 London's Goethe Insitut showed 3 rarely seen photofilms by Fichte and Mau. The films were shown in connection with the major international conference, Hubert Fichte, Texte & Kontexte, which took place at the University of London's Institute of Germanic and Romance Studies.
Filmography
Edit
1966 - Der Tag Eines Unständingen Hafenarbeiters ('A Day in the Life of a Casual Dockworker') - Germany, 16 min
1968 - Der Fischmarkt Und Die Fische ('The Fishmarket and the Fish') - Germany, 9 min
1970 - Die Spanische Treppe ('The Spanish Steps') - Germany, 10 min
Bibliography
Edit
Die afroamerikanischen Religionen. Fischer, Frankfurt/M. (with Hubert Fichte)
Part 1. Xango 1984, ISBN 3-10-020701-7.
Part 2. Petersilie 1980, ISBN 3-10-020708-4.
Die Kinder Herodots. Ein Buch. Fischer, Frankfurt/M. 2006, ISBN 3-10-020732-7 (with Hubert Fichte)
Psyche. Annäherung an die Geisteskranken in Afrika. Fischer, Frankfurt/M. 2005, ISBN 3-10-020730-0 (with Hubert Fichte).
Ad blocker interference detected!
Wikia is a free-to-use site that makes money from advertising. We have a modified experience for viewers using ad blockers

Wikia is not accessible if you've made further modifications. Remove the custom ad blocker rule(s) and the page will load as expected.