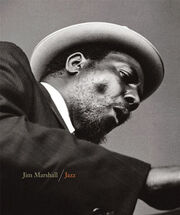 Jazz is a 2005 book of portraits of Jazz musicians, shot by Jim Marshall.
Book description
Edit
An unexpected trove, Jim Marshall's portraits of the jazz greats are as wonderful as his legendary work with rock musicians (most recently enjoyed in Jim Marshall: Proof). The access his subjects allow him and their obvious ease around him give these photographs an unequalled intimacy. This portfolio of Marshall's favorite shots shows the classics of jazz onstage, backstage, in the studio—and also in their kitchens and living rooms. Ray Charles, Duke Ellington, Sarah Vaughan, John Coltrane, Miles Davis, Thelonious Monk, Coleman Hawkins—Marshall's images capture these faces and many, many more in authentic and unguarded moments. Jazz critic Phil Elwood provides an introduction, and captions throughout present Marshall's reminiscences in his own words, making this book a must-have for both jazz and photography aficionados. By turns illuminating and haunting, Jim Marshall: Jazz confirms his place as one of the great portrait photographers.
Publication details
Edit
Publisher: Chronicle Books
Page count: 144
ISBN-10: 0811843548
Ad blocker interference detected!
Wikia is a free-to-use site that makes money from advertising. We have a modified experience for viewers using ad blockers

Wikia is not accessible if you've made further modifications. Remove the custom ad blocker rule(s) and the page will load as expected.