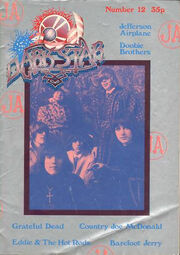 Dark Star was a British music magazine that was published from the mid-1970s to the early 1980s.
Partial list of published issues
Edit
No 5 - Stephen Stills & Neil Young cover
No 7 - Poco cover - articles on Mike Wilhelm, Texas Rock, Rick Roberts, Grateful Dead
No 8 - David Lindley cover - articles on Craig Chaquico, Flamin' Groovies, Texas Rock, Andrew Gold, Jim Morrison
No 9 - Boz Scaggs cover - articles on Gene Clark, Billy Talbot, Beach Boys and Grateful Dead
No 10 -
No 11 - Bob Dylan cover - articles on Beach Boys, Kingfish, Big Star, Sons of Champlin, Commander Cody
No 12 - Jefferson Airplane cover - articles on Doobie Brothers, Grateful Dead, Country Joe McDonald, Barefoot Jerry, Eddie & The Hot Rods
No 13 - The Byrds cover - articles on John Martyn, Greg Kihn
No 14 - Emmylou Harris cover - articles on Clover, Spirit, Dickey Betts, Jefferson Airplane, Flamin' Groovies
No 15 -
No 16 - Tubes/Tom Petty cover - articles on Ian Matthews, Big Star, Jefferson Starship, Good Rats, Rubinoos, David Freiberg, Clover
No 18 Steve Miller cover - articles on The Doors, Richard Thompson, The Cars, Paul Kantner, Ian Matthews
No 19 Grateful Dead cover - articles on Terrt & The Pirates, Ray Manzarek, Alpha Band, Carlene Carter, Seuperman, SVT etc.
No 20 McGuinn, Clark & Hillman cover - articles on Cheap Trick, Moon Martin, Nick Drake, Raspeberries, Tom Sharpe
Ad blocker interference detected!
Wikia is a free-to-use site that makes money from advertising. We have a modified experience for viewers using ad blockers

Wikia is not accessible if you've made further modifications. Remove the custom ad blocker rule(s) and the page will load as expected.