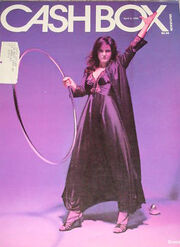 Cash Box (or Cashbox) magazine was a weekly publication devoted to the music and coin-operated machine industries in the USA which was published from July 1942 to November 16, 1996.
It was one of several magazines that published charts of song popularity in the United States of America. Cash Box's most prominent competitors included Billboard and Record World (known as Music Vendor prior to the April 18, 1964, issue). Unlike Billboard, Cash Box initially combined all currently available recordings of a song into one chart position with artist and label information shown for each version, alphabetized by label. Originally, no indication of which version was the biggest seller was given, but from October 25, 1952, a star was placed next to the names of the most important artists. Cash Box also printed shorter jukebox charts which included specific artist data beginning in the spring of 1950. Separate charts were presented for juke box popularity, record sales, and radio airplay, similar to Billboard's methodology prior to August 1958, when Billboard debuted its "Hot 100," which attempted to combine all measures of popularity into one all-encompassing chart. In addition, Cash Box published chart data for specific genres, such as country music and R&B music.
Cashbox was revived as an internet-only magazine in 2006 with the assent and cooperation of the family of George Albert, the late president and publisher of the original edition.
Ad blocker interference detected!
Wikia is a free-to-use site that makes money from advertising. We have a modified experience for viewers using ad blockers

Wikia is not accessible if you've made further modifications. Remove the custom ad blocker rule(s) and the page will load as expected.