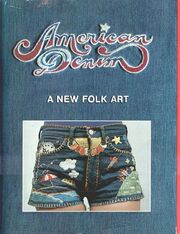 American Denim is a 1975 book by Peter S. Beagle, showcasing the works of people who have customized their denim clothing by various means. It also features an essay by Beagle as well as short writings by the people who sent in pictures of their works.
Publication details
Edit
Published by Harry N. Abrams, Inc.
ISBN-10 : 0810902915
Photographs by Baron Wolman and the Denim Artists
Ad blocker interference detected!
Wikia is a free-to-use site that makes money from advertising. We have a modified experience for viewers using ad blockers

Wikia is not accessible if you've made further modifications. Remove the custom ad blocker rule(s) and the page will load as expected.